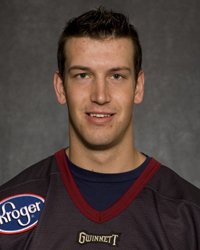 Charlotte Checkers 4, South Carolina Stingrays 3 F/OT
Trailing 3-1 heading into the third period, Stingrays' Captain Cail MacLean tallied his second goal of the night and an assist on a goal by Evan Schwabe to send the game into overtime tied at 3. Charlotte's 6 foot 6 center Bruce Graham (pictured) ruined the comeback attempt when he netted his 3rd goal of the night 1:55 seconds into the extra frame to give the Checkers the much needed two points for the victory.
The game marked the sixth time out of seven games this season that a contest between these two teams was decided by just one goal. The win moved Charlotte to within one point of the fifth place Stingrays in the South Division. South Carolina is now nine points behind the division leading Texas Wildcatters. They return to action tonight when the Florida Everblades come to town for the first of two back-to-back games.