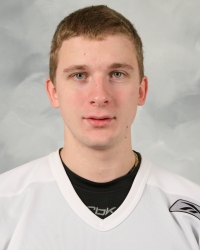 An interview with the Capitals' young defensive prospect courtesy of The Post and Courier at www.Charleston.net.


One-on-One with Viktor Dovgan
(Photo Courtesy of www.ECHL.com)

South Carolina Stingrays rookie Viktor Dovgan is playing his first season of professional hockey in the United States. A native of Moscow, Dovgan was a seventh-round draft pick of the Washington Capitals in 2005. Dovgan is taking classes to improve his English, but needed the help of interpreter Walter Jankov when he went one-on-one with The Post and Courier's Andrew Miller.
What do you think of the United States?
"I love America. I love playing here. The United States is much cleaner than Russia.
All the people are very nice."
What do you like the most about Charleston?
"I haven't seen as much of Charleston as I would like. I would like to get out more and see more of the city. I love the people here in Charleston. I love the weather. In Moscow right now, it's very cold, so I'm glad to be here."
You and your wife (Oksana) had a baby boy in December. What's it like to be a new father?
"I love it. It's super. I don't see Ilya enough. He and Oksana are back in Moscow, but every time I'm on the ice he is in my heart. I miss him ? a lot. It's very tough to be away from him."
Why didn't you bring Oksana to the U. S.?
"When I signed with Washington, Oksana was pregnant, so I couldn't bring her with me. I'm on the road all the time now, so it's probably best that she didn't come this season. But it's tough. I miss her.
I miss Ilya. I went home to Moscow to see them over Christmas. I was there about two weeks. It was very difficult to leave them and come back to play hockey.
You've scored three goals this season. What was it like to get your first professional goal?
"It was super. I got a beautiful pass from Cail MacLean and I took the shot and I was lucky it went in."
Do you consider yourself more of an offensive defenseman or a stay-at-home defenseman?
"I think of myself as more of an offensive defenseman. I like to join the rush and get into the play."
Is the hockey played differently in North America?
"In North America, once you get to the blue line you have to give up the puck and dump it in and then everyone goes and chases it. In Russia, you don't do that. You get to the blue line and you don't dump the puck. You skate with the puck, you move the puck and try to make plays."
Capitalism or Communism?
"No communism. Capitalism ( laughing)."
Mikhail Gorbachev or Vladimir Putin?
"Putin."
Anna Kournikova or Maria Sharapova?
"I love Sharapova."
Who was your favorite Russian player growing up?
"Sergei Gonchar. I like the way he moved the puck. I liked Darius Kasparaitis as well."
What's your favorite American music?
"I like rap. No country."
Do you have an iPod and how many songs do you have?
"Yes. About 400. I've got some American music and some Russian music on there."
Got a favorite American movie?
"I mostly like comedies. But I liked Spider Man, too."
What was the feeling in Russia about the 1980 ?Miracle on Ice' Olympic hockey game between the United States and the Soviet Union?
"I think the Russian team took the U. S. too lightly. They didn't think the Americans could beat them. Some people in Russia think they lost the game on purpose to make their coach look bad. I don't think so. They just underestimated the college players. They came on the ice and didn't think they could lose."